The Fishing
Fly fishing in New Zealand's South Island is often described by anglers as "more like hunting than fishing" after they experience a typical day sight fishing to our wild brown and rainbow trout. Taking advantage of our clear water conditions, we first sight the fish and then attempt to stalk and cast to it (this is called "sight fishing").
You can be genuinely proud when you hook and land one of our wild New Zealand trout.
On a more general note, the backcountry fishing in our remote scenic locations is not as "hatch driven" as lowland rivers. The trout are often "opportunity feeders", and if a good cast is achieved, the trout will more than likely have a crack at your fly. In some areas where the trout are larger and more cunning than usual, that's when we bring our "A" game – spotting the trout at a distance, careful fly selection, stealthy approach, and a careful cast.
The fishing in New Zealand is not always easy. But it is always good.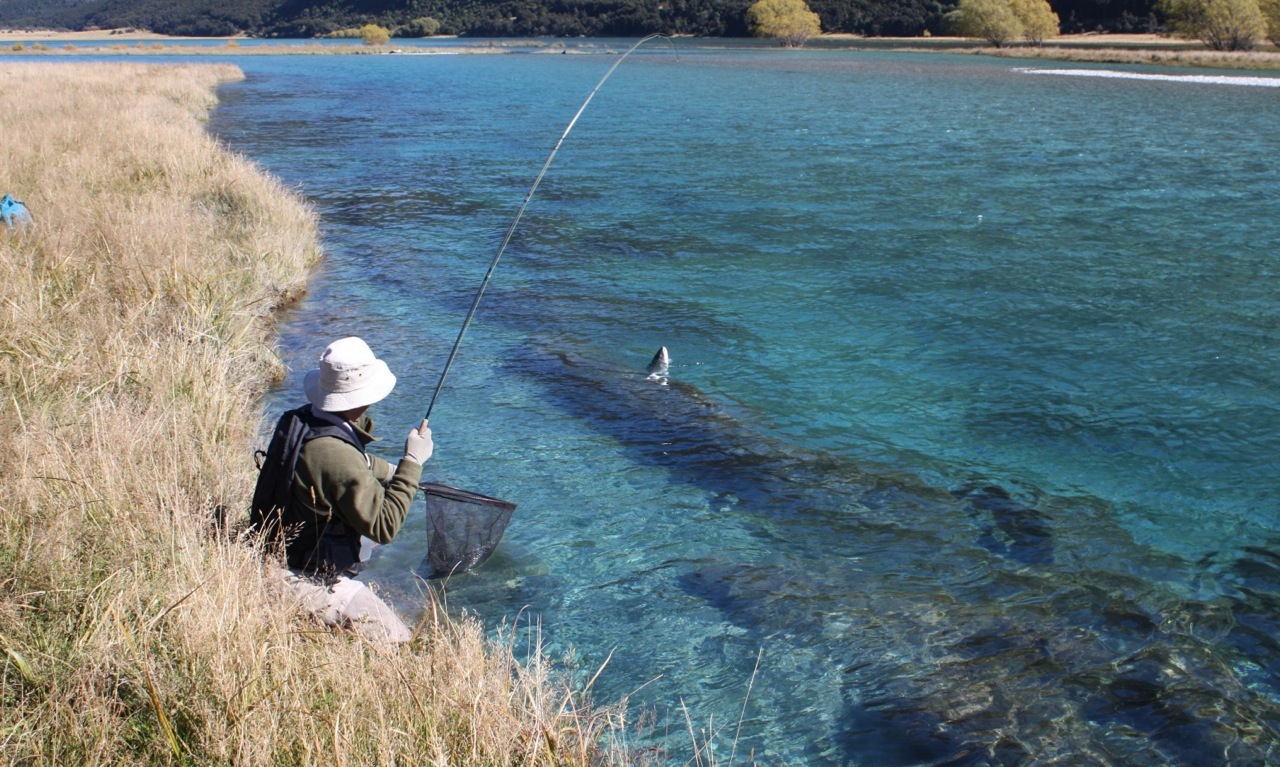 All equipment supplied
I supply quality equipment, including Simms wading boots and Gore-Tex waders, Sage rods etc. This saves packing bulky items for your trip. However, it is advised to bring suitable clothing, such as hiking socks, quick drying nylon travel pants and shirt, warm fleece jumper and raincoat. If possible these items should be in subdued colours.
Equipment and what to bring
Clothing (all in subdued fish friendly colours please):
Long sleeved shirt with collar
Long nylon quick drying travel pants or similar (not jeans).
Spare socks
Sunhat
Warm fleece
Raincoat
Sunblock
Insect repellent
Personal medication
Any unusual dietary requirements
Tackle (remember I can supply all of the below if you don't wish to pack yours). I also offer a storage service F.O.C. if you wish to leave fly fishing gear in New Zealand.
Rod: Medium to fast action 9 foot 6 weight.
Reel: large arbor preferably, with enough room for 50m of backing.
Line: Weight forward 6 floating
Leaders: 9 feet tapered to 3X
Tippet: 3X, 4X, fluorocarbon preferred
Flies: contact me, especially if you are a keen fly tier, and I'll send a list depending on time of year. I have plenty of flies on hand in any case.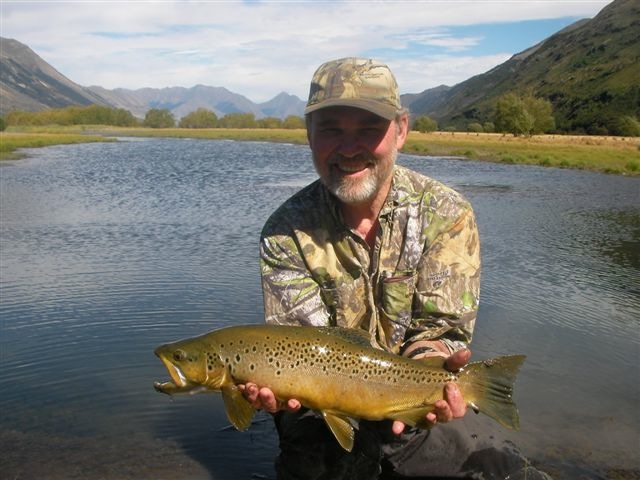 Wading gear
(Please note felt soled wading boots are not permitted in New Zealand to prevent the spread of waterborne pests).
I recommend GoreTex or similar breathable stocking foot waders.
A must are rubber soled wading boots, such as Simms. Tungsten studs good but not vital.
During the warmer months we often just use neoprene wading socks inside our wading boots instead of waders, and wear the nylon travel pants over the top.
Trophy trout (10lb+)
It's great when we find and get an opportunity to cast to and land a trophy fish, and some areas I fish do hold uncommonly large trout. However, I believe the exclusive pursuit of trophy fish can take away from the beauty of fly fishing – all of a sudden, a 6lb fish "isn't good enough". In my books it's the style and grace of fly fishing, the magnificent scenery, and catching any of our fantastic wild trout that brings enjoyment.
Don't get me wrong – I will always guide you on the best water that is available on the day, and if there is a chance of a trophy trout, then we'll certainly focus on it, but be aware that there are some guides in NZ that promise plenty of easy fish, with trophies being caught on every trip. This is just plain misleading.
Weather
The South Island of New Zealand is long and skinny, with a high range of mountains dividing the East and West coast. The weather tends to go through settled phases, and then builds up on the West coast and funnels strong winds and rain through the mountain passes into the East coast. For this reason we are always on our toes with regards to the weather, and I go to considerable efforts to predict weather conditions and river levels, as well as matching your skills and expectations to the locations we fly fish. If conditions are too severe to fish, I will tell you – however this is extremely rare, as we have so many fly fishing options within range of Wanaka.
The New Zealand fly fishing season
The main fishing season runs from October through to May, with the peak season being November though to February.  Guides are booked well in advance so plan ahead.
Spring (September, October, November)
Probably the easiest fly fishing of the season if the weather is kind. However, it can kick up with strong winds and rain, so there is plenty of crossed fingers at this time of year.
September offers exceptional still water fly fishing – stalking browns in the clear waters of our mountain lake margins, and targeting feisty rainbows around the mouths of the incoming small creeks and rivers.
October sees the opening of the lowland rivers, mainly to the South and East of Wanaka, but also great still water fishing.
November heralds the opening of the backcountry rivers that Wanaka is famous for, with straightforward fishing for rainbows, mainly with nymphs, but expect some good dry fly fishing.

Summer (December, January, February)
December through to Feb is dry fly time, with the approach of more settled weather. Expect excellent terrestrial hatches of green beetles in December, and the legendary cicada dry fly fishing in January and February. Usually there is more settled weather during the summer months, and the long daylight hours and high sun angle gives us the most advantageous conditions for spotting trout.

Autumn (March, April, May)
Stunningly beautiful scenery is a great drawcard to fish around Wanaka during the Autumn as the trees are turning bright shades of yellow and red as they drop their leaves.
March is still warm enough for plenty of dry fly fishing, with Cicadas about, as well as plenty of blowflies.
In April, the mayfly dry fly fishing can be exceptional, as we saw at the end of the 2013 season, with some of the best mayfly hatches and fishing I have ever experienced.
In May, the fly fishing is more testing, but definitely worth going out when the weather is good. Sunny days work best as the sun angle is lower, which makes spotting more difficult. The brown trout are congregating around the river mouths and moving up the backcountry rivers, and the rainbow trout are around the river mouths feeding up to achieve top condition before moving up the rivers to spawn in springtime.

Winter (June, July, August)
Both June and July offer limited fly fishing, with cold short days testing us to our limits. However, if you want a day out, I offer a discounted rate for these months (a full day at half day rates), and we do have some good fishing on the bright sunny days. This current season has seen some good days targeting rainbows in the sections of river that are open during the winter months.
August allows us to get out and target cruising brown trout as the days get longer and warm up. Some subsurface life starts to appear, with Dragonfly and Damselfly nymphs becoming more active, and the trout coming into the margins of our lakes to feed in the shallows. Rainbow trout are congregating around the river mouths to spawn as springtime approaches, and they are in top condition.